Mission Statement
"Sharing our love and understanding of Christ through our discipleship, missions
and outreach to our community."
Our Beliefs
We believe that Jesus Christ is the Son of God and the Savior of humans. We look to the Word of God in the Scriptures, and to the presence and power of the Holy Spirit to grow its creative and redemptive work in the world. We are in agreement with historic confessions such as the Apostles Creed, Nicene Creed, and the Heidelberg Catechism. We recognize two sacraments: Baptism and the Lord's Supper or Holy Communion.
Staff
The staff and leadership at Zion Blue Mountain UCC is comprised of men and women who love, care and pray for every single person in the church.
Reverend Jason W. Stump, age 44, was born in Pottsville and grew up in Pine Grove, PA. He was ordained in 2019 in the Penn Southeast Conference the PS Schuylkill Association at St. Peter's UCC, in Pine Grove. Reverend Stump believes in being very involved in community and Church. He believes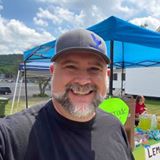 Zion Blue Mountain UCC is being called by God to be a regional force for worship, fellowship, mission, and spiritual formation. He has been a volunteer fire department chaplain; Sons of American Legion Chaplain; he is an Eagle Scout through the Boy Scouts of America and holds an honorary degree from the Pine Grove FFA. Graduating from Norwich University, in Vermont in 1998, he obtained a Bachelor of Science in Civil Engineering. He spent many years in construction management, and six years as a middle school math teacher. He went on to attend Lancaster Seminary, graduating in May, 2019 with a Master of Arts in Ministry and Leadership. He is very passionate about The Church, he connects to traditional worship styles that incorporate contemporary understanding of scripture, and spiritual practices. Reverend Stump and his daughter, Kathleen, 18, who is a graduate of Pine Grove Area; reside in Schuylkill Haven. Kathleen or Kat, will be attending Unity College in Maine in Fall of 2020 majoring in Marine Biology. Together they enjoy a variety of outdoor activities, cultural events, travel, movies, family, and community activities. They have already been looking for some good hunting spots in the area. They have two dogs, Jennie a 10 year old mixed breed and Finn a 2 year old Weimaraner.